Atco Mining Inc. (CSE:ATCM) is pleased to announce that it has appointed Jeffrey Stevens as a strategic advisor. Mr. Stevens qualifications and skillset in corporate development and capital markets will expand Atco's reach in new markets and will help expose the Company's message and mission around North America.
About Jeffrey Stevens
Mr. Stevens has over 20 years of capital markets experience and has been an officer and director with several public companies. He has taken many companies public, built teams and structured multiple M&A transactions while building successful businesses. He is currently the CEO and Director of Psyched Wellness. Prior to this role, he was the cofounder and COO of Datametrex AI Limited (TSXV:DM) and helped grow that company from a start-up with zero revenue to over $10,000,000 a year and a market capitalization of over $120 million.
"I am thrilled to take on an advisory role with Atco and to support this esteemed team of mining professionals with capital markets exposure," states Mr. Stevens. "My many years of institutional sales and trading were predominantly focused on financing small and micro-cap mining companies so I am excited to use my experience and contacts to help the Company grow."
The Company is currently awaiting the initial preliminary results and interpretation of the airborne survey that was flown and completed last week.  These results will help identify potential salt dome structures that are defined by gravity-low features.
Atco would also like to congratulate Mr. Rowland Howe and his team at Atlas Salt (TSXV:SALT) for announcing the results of their independent preliminary economic assessment (PEA) and updated mineral resource estimate on their 100-per-cent-owned Great Atlantic salt project, which came in with a pre-tax internal rate of return (IRR) of 22% and a Net Present Value of $909 million. Atlas further noted in their news release issued on Tuesday January 31st that [they have] "entered into discussions regarding Great Atlantic with interested parties including potential suitors. With an independent PEA now in hand, management expects these discussions to accelerate with the focus on possible outcomes aimed at maximizing shareholder value." Atco is currently assessing all available historical data on its Lunar North Project located directly adjacent to Atlas Salt's Great Atlantic Deposit (see map below) to determine the best exploration plan going forward.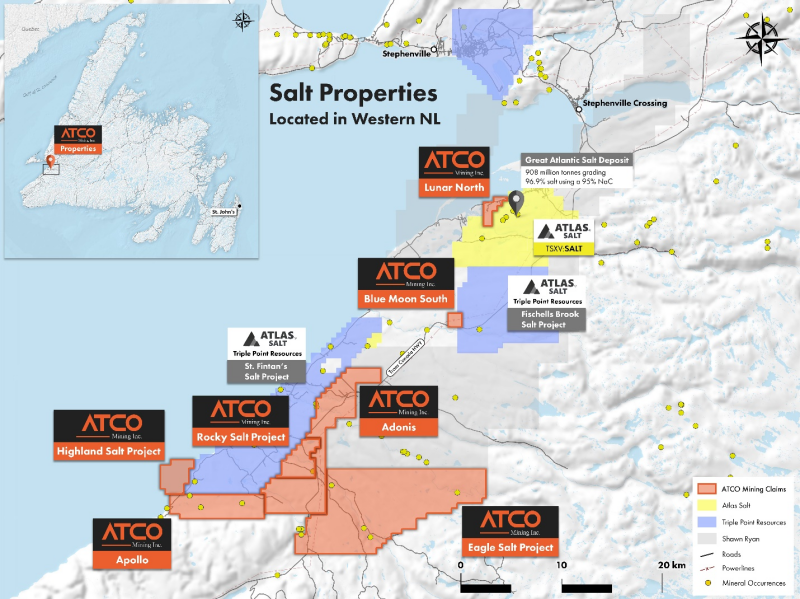 Click Image To View Full Size
Atco looks forward to these discussions progressing as it will only bolster and highlight the region as one of the premier mining destinations in the world.
For further information on Atlas Salt's news release please click here: https://atlassalt.com/independent-preliminary-economic-assessment-for-atlas-salts-great-atlantic-project-supports-state-of-the-art-salt-factory-vision/
Stock Options and Restricted Stock Units
The Company is also pleased to announce that it has granted 200,000 stock options (the "Options") to purchase common shares of the Company (the "Option Shares") to Jeffrey Stevens. The Options vest on the date of issuance and are exercisable for a period of two years from the date of issuance at an exercise price of $0.25 per Option Share. The Company has also granted 200,000 restricted share units (RSUs) to Jeffrey Stevens. The RSUs will vest and convert into common shares on June 1, 2023.
About Atco Mining (CSE: ATCM):
Atco is a junior exploration mining company focused on exploring for green energy metals throughout Canada. Atco is also exploring for sulphide-rich VHMS deposits in Saskatchewan as well as salt opportunities in Western Newfoundland. Investors are encouraged to visit the company's website here: www.atcomining.com.