Manning Ventures Inc. (CSE: MANN) (OTC: MANVF) (FRA:1H5) is pleased to announce the analytical results from the second- pass of exploration on its 100% owned Bounty Lithium Property (the "Property"), located in the James Bay Lithium District of northern Quebec.
The fall-2022 work program followed up on the spring-2022 work, with an additional 41 samples collected in areas that contained anomalous LCT-pegmatite.  The highest value so far on the property was collected, containing 707 ppm lithium (0.15% Li2O).  Additionally, it contains the highest amount of cesium (661ppm Cs) and very elevated Rubidium (1163ppm Rb); both adding confirmation to the LCT-style pegmatite model on the northern end of the property.  The company is very encouraged by the results of the program, and plans to focus on the area of the positive results in the spring of 2023.  Satellite imagery suggests that there are outcrops nearby that have not yet been sampled.
Given the distribution of lithium content of other pegmatites in the James Bay Lithium District, the samples have been categorized into three categories (Figure 1), as follows:
Very anomalous (greater than 201 ppm lithium).  

Spring-2022: Seven samples on the Property are categorized as very anomalous, with up to 425 ppm lithium. 

Fall-2022: One sample of up to 707 ppm lithium (0.15% Li2O) was collected. 

Anomalous (81 to 200 ppm).  

Spring-2022: Sixteen samples categorized as anomalous, 

Fall-2022: six samples categorized as anomalous, and 

Not anomalous (below 80 ppm). The remaining samples are considered not anomalous. 
Those samples in the "very anomalous" category appear combined with elevated levels of tantalum, cesium and rubidium, which confirms the Lithium-Cesium-Tantalum (LCT) style pegmatite affinity for the Property.  Additionally, the abundance of tourmaline amongst the common pegmatite mineralogy of feldspar, quartz and mica adds to the LCT affinity.  
The spatial distribution of the very anomalous pegmatites, clustering in the center of the Property, within the volcano-sedimentary country rock is thought to be a positive exploration attribute, given the deposit model within the James Bay Lithium District.  
The James Bay Pegmatite District of Quebec is known to host several large lithium pegmatite deposits including:
James Bay Project of Allkem.  

Corvette Property of Patriot Battery Metals; 

Rose Lithium-Tantalum Deposit of Critical Elements Lithium Corp; and 

Whabouchi Lithium Deposit of Nemaska Lithium; 
Spodumene bearing pegmatites are important sources of hard rock lithium. With rising EV demand lithium hydroxide and lithium carbonatite prices have risen by over 200% during 2021.  Despite the price rises the forecast lithium market imbalance will continue to increase dramatically in coming years (Allkem, CEO Presentation, 2021).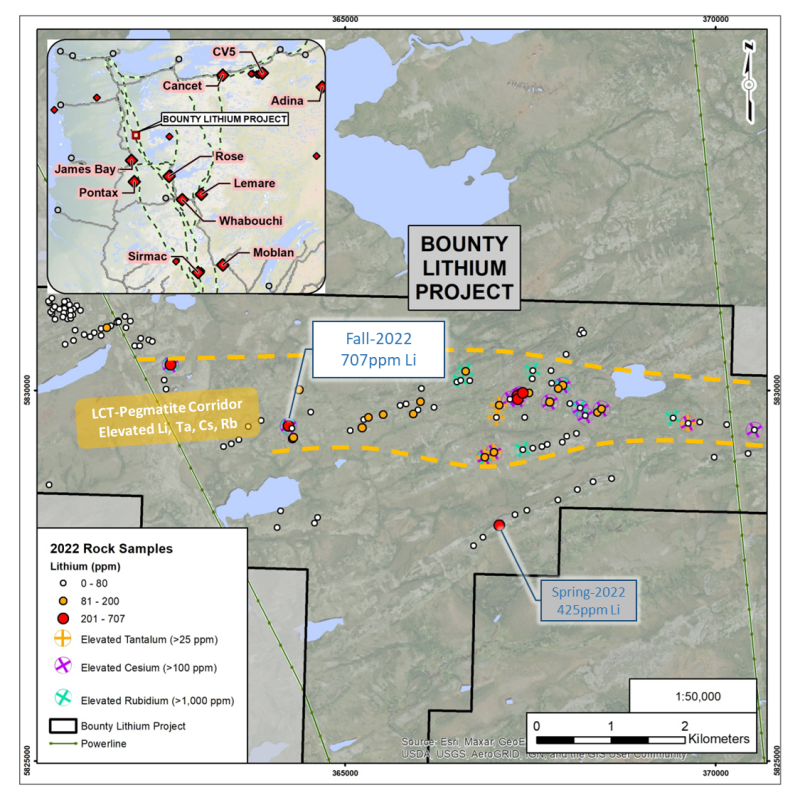 Click Image To View Full Size
Figure 1: 2022 Sample Results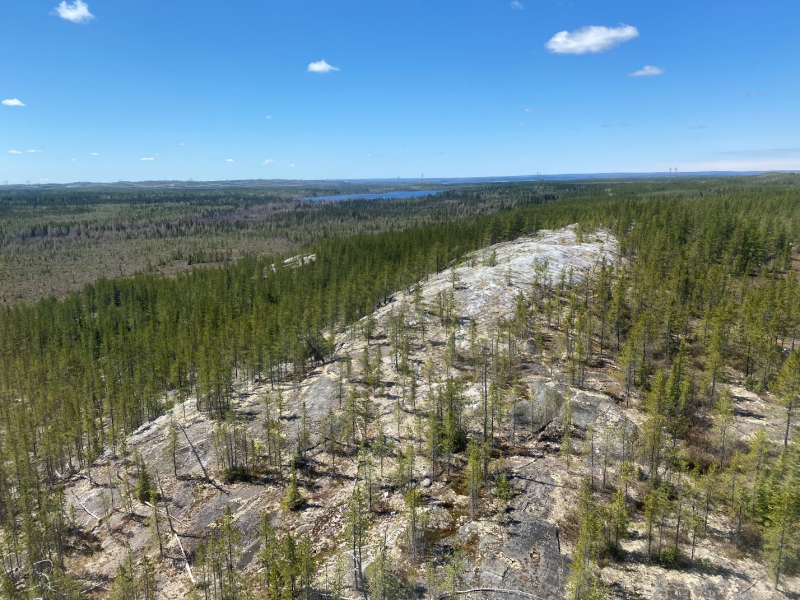 Click Image To View Full Size
Figure 2: 2022 Pegmatite Outcrop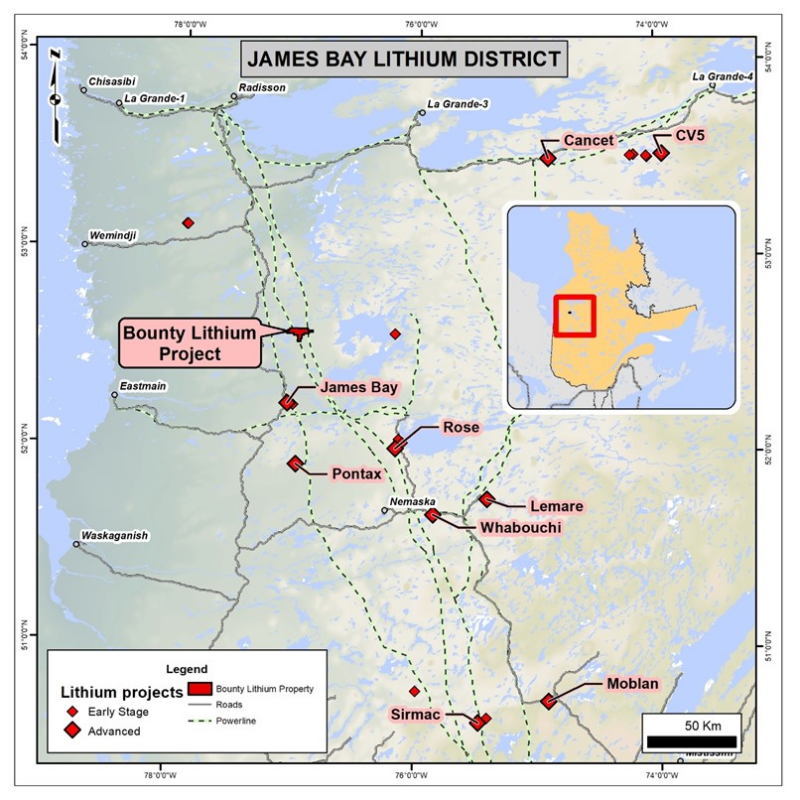 Click Image To View Full Size
Figure 3: Bounty Property within the James Bay Lithium-Pegmatite District, Quebec.
Quality Assurance / Quality Control (QAQC)
All rock samples were shipped to SGS Canada's laboratory in Burnaby, BC, for standard sample preparation (code PRP89) which includes drying at 105°C, crush to 75% passing 2 mm, riffle split 250 g, and pulverize 85% passing 75 microns. The samples were then homogenized and subsequently analyzed for multi-element (including Li, Cs, Rb and Ta) using sodium peroxide fusion with ICP-AES/MS finish (code GE_ICM91A50).
QP Disclosure
Neil McCallum, B.Sc., P.Geo., of Dahrouge Geological Consulting Ltd., a registered permit holder with the Ordre des Géologues du Québec and Qualified Person as defined by National Instrument 43-101 – Standards of Disclosure for Mineral Projects, supervised the preparation of the technical information in this news release.  
About Manning Ventures
Manning is a broad-based mineral exploration and development company with a focus in Canada. Manning holds a 100% interest in the Bounty Lithium Project, located in Quebec, and the Dipole Lithium Project, in Newfoundland.  The Company also retains interest in six Iron Ore properties located in the Province of Quebec, and portfolio of polymetallic projects in Newfoundland.